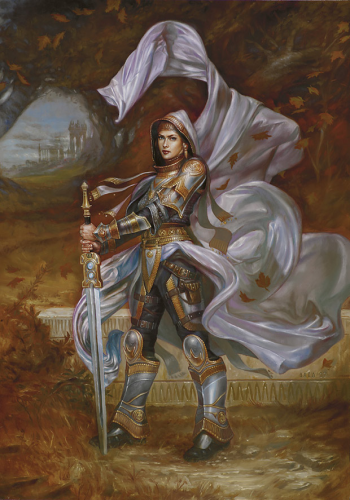 Biography
Elspeth Tirel is a planeswalker who wields white mana. She has powerful magic of community and fortification: spells that build mighty armies, bolster them, and protect them from harm.
Elspeth was born on a plane of strife and darkness. When her planeswalker spark ignited, she left home and never looked back. She wandered the Multiverse, looking for a world where she could belong, a world that had what her true home was missing: peace, love, and community. She found all those qualities in the shard of Alara called Bant.
With her formidable fighting skills and her devotion to nobility, Elspeth became a knight and champion of the Bant nation of Valeron. She evades questions about her origins, content to build her life around service to her adopted home. She has become a planeswalker with a very unusual trait—she has no desire to planeswalk ever again.
Elspeth Tirel's Deck
Elspeth Tirel's Campaigns
Elspeth Tirel's Challenges
References
Multiverse: Magic: The Gathering
This information may be copyrighted. So it will be used in a way that qualifies as Fair Use under US Copyright Law. The information on this wikia was found on: http://www.wizards.com/Magic/Digital/Default.aspx or came from Magic the Gathering: Duels of the Planeswalkers: (Xbox 360 and PC Version's) The Information was gathered from Magic 2011. This information may be owned by Multiverse: Magic the Gathering, which is owned by Wizards of the Coast. The use of this information in www.duelsoftheplaneswalkers.wikia.com articles can be considered fair use because: It illustrates the topic of our articles, and no equivalent free and accurate information is available. The use of this information on articles other than those outlined above with legitimate fair use rationales may be a copyright violation.