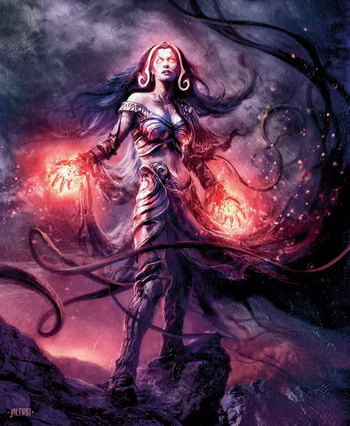 Biography
Liliana Vess is a planeswalker who wields black magic. Her specialty is necromancy: spells that reanimate the dead, corrupt the living, and unlock power from death.
Beautiful, cunning, and ambitious to a fault, Liliana Vess is quietly one of the Multiverse's most magnetic dangers. Liliana's dark charisma is undeniable—she's agelessly striking and sharp as the edge of a razor.
Liliana Vess's most formative experience was her pact with demonic forces. As Liliana faced the limits of her human lifespan, her health and power were waning. She contacted powerful demon lords, and one dark deal later, she was restored to her height of power and beauty. Today she appears to be in her 20s, but in truth she's over a century old.
Liliana's ambition has led her to interact with beings from all over the Multiverse, but ultimately, Liliana Vess's first love is Liliana Vess. She's convinced that that everyone's in it for themselves just as she is, but that she's just a little better at playing the game than everyone else.
Liliana Vess's Deck
Liliana Vess's Campaigns
Liliana Vess's Challenges
References
Multiverse: Magic: The Gathering
This information may be copyrighted. So it will be used in a way that qualifies as Fair Use under US Copyright Law. The information on this wikia was found on: http://www.wizards.com/Magic/Digital/Default.aspx or came from Magic the Gathering: Duels of the Planeswalkers: (Xbox 360 and PC Version's) The Information was gathered from Magic 2011. This information may be owned by Multiverse: Magic the Gathering, which is owned by Wizards of the Coast. The use of this information in www.duelsoftheplaneswalkers.wikia.com articles can be considered fair use because: It illustrates the topic of our articles, and no equivalent free and accurate information is available. The use of this information on articles other than those outlined above with legitimate fair use rationales may be a copyright violation.