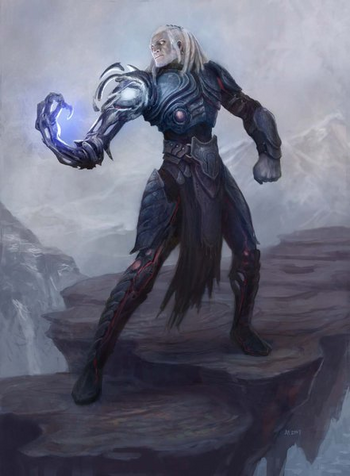 Biography
Tezzeret is a planeswalker who wields both blue and black magic. His specialty is artifice: spells that forge artifacts, manipulate artifacts, and even bring artifacts to life.
Tezzeret was a talented artificer from the Alara shard of Esper. Like all Esperites, he has part of his body "enhanced" by the magical alloy etherium, part of an overarching planar venture to create perfection of both body and mind.
Tezzeret became an initiate of a mage sect called the Seekers of Carmot in order to gain access to the Codex Etherium, a sacred tome the sect claims to have in its possession. When he intruded into the sanctum of the Seekers, he uncovered truths that others didn't want him to find, and he found himself trapped in a conspiracy much larger than himself.
Tezzeret the Seeker's Deck
Tezzeret the Seeker's Campaigns
Tezzeret the Seeker's Challenges
Tezzeret the Seeker (Challenge)
References
Multiverse: Magic: The Gathering
This information may be copyrighted. So it will be used in a way that qualifies as Fair Use under US Copyright Law. The information on this wikia was found on: http://www.wizards.com/Magic/Digital/Default.aspx or came from Magic the Gathering: Duels of the Planeswalkers: (Xbox 360 and PC Version's) The Information was gathered from Magic 2011. This information may be owned by Multiverse: Magic the Gathering, which is owned by Wizards of the Coast. The use of this information in www.duelsoftheplaneswalkers.wikia.com articles can be considered fair use because: It illustrates the topic of our articles, and no equivalent free and accurate information is available. The use of this information on articles other than those outlined above with legitimate fair use rationales may be a copyright violation.